Event Description
BCRB Annual Fall Conference!
 Dear Members, Partners and Friends,
The BC Road Builders and Heavy Construction Association's Fall Conference is fast approaching and is scheduled to take place in Kelowna from Sunday, September 18 to Tuesday, September 20, 2022.
Please plan to join us and take advantage of this great opportunity to meet with other professionals in the industry, and to participate in workshops, round-table discussions, social activities and more.
We hope that you are able to join us for this great networking event!
In addition, we would appreciate your support by providing any donation that could be used as prizes (no corporate logo products) during the very popular Reverse Draw at Monday evening's Fall Banquet Dinner.  Please remember we have a double ticket system, so donating two of the same prize would be greatly appreciated.
Please send your items to the Association's office prior to noon on Wednesday, September 7, 2022 or drop them off directly at the Fall Conference Registration Desk with a business card attached.
If you have any questions or require any assistance please do not hesitate to contact our event management team at 604-952-5507 or [email protected].
Kelly Scott
BC Road Builders & Heavy Construction Association
Schedule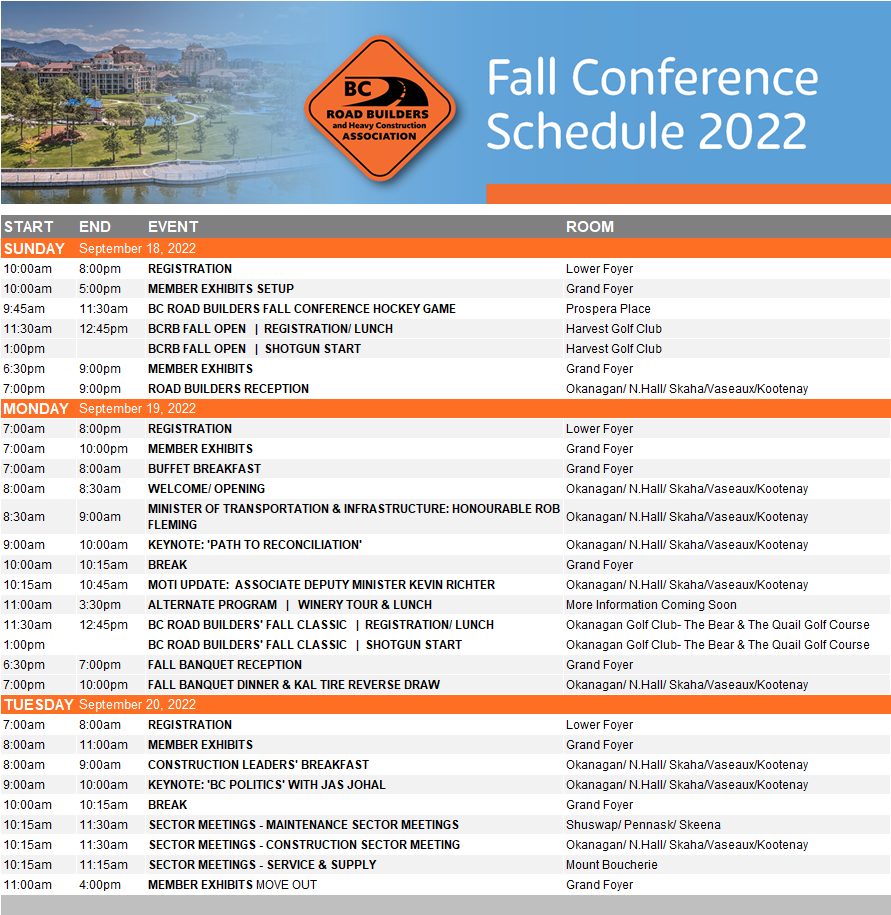 Sponsors & Exhibits
This conference is made possible by the continued support of our members.  We thank the many companies who have and continue to sponsor our association events.
This event is attended by historically over 500 delegates, including guests from other partnering organizations/associations and the provincial government. Sponsoring this conference is a great way to show your support for the association.
If you are interested in sponsorship or would like to hear more about the opportunities available, please download the sponsorship package and reach out to our sponsorship team to discuss how best we can meet your goals and customize opportunities.
Please contact our team at 604-952-5507 or [email protected] for more information.
Thank you for your continued support.


Events
Sunday, September 18
BCRB Fall Open | Harvest Golf Club
Delegates, Members & Guests are Welcome!
Registration & Lunch: 11:30AM
Shotgun Start: 1:00PM
Price: $195.00 per player
$50.00 per MoTI player
(includes green fees, boxed lunch, cart, practice balls
Road Builders' Reception | 7:00PM – 9:00PM
You are invited to an evening of networking and to experience the culinary abundance Kelowna has to offer.
Monday, September 19
BC Road Builders' Fall Classic Golf Tournament | The Okanagan Golf Club
BC Road Builders will be showing off their golf skills at our annual Fall Classic Golf Tournament. Come join in with a foursome for a fantastic day on the course!
Registration & Lunch: 11:30AM
Shotgun Start: 1:00PM
Price: $205.00 per player
(includes green fees, lunch, cart, transportation to course)
Winery Tour, Tasting & Lunch | Alternate Program
Enjoy a group tour of a local winery followed by a wine tasting and lunch overlooking the vineyard. (transportation included)
Price: $165.00
11:00AM – 3:30PM
Fall Banquet Reception & Dinner | Reception 6:30 & Dinner 7:00PM – 10:00PM
Join us Monday evening for delicious food and enjoyable company at the Annual Fall Banquet Dinner!
See if you're the lucky one by participating in the exciting Reverse Draw during the Fall Banquet Dinner and you could be the winner of $5,000.00 cash!
This event is for members of the BC Road Builders & Heavy Construction Association. If you are not a member, and interested in joining, please click here to learn more. Non-member registrations will be cancelled.
Hotel / Venue
Immerse yourself in a lakeside ambiance in the midst of British Columbia's Wine Country at Delta Hotels by Marriott Grand Okanagan Resort. Set on Okanagan Lake and surrounded by picturesque mountains, this urban resort offers stylish hotel rooms and suites with deluxe amenities. Dine at the popular hotel restaurant and sip cocktails or wine on the lakefront patio. Stay fit in the fitness centre or take a dip in sparkling indoor and outdoor pools. Enjoy kayaking, go biking, hiking or explore local wineries in BC's premier grape-growing region. The Grand is located in the heart of Kelowna within walking distance to shopping, dining and entertainment.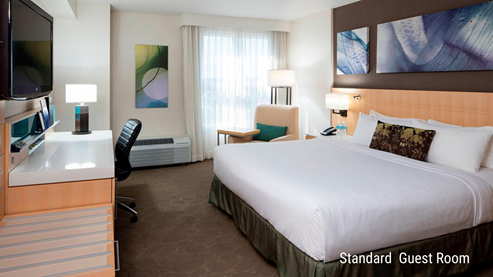 Reserve Your Room: Book your group rate for BC Road Builders Association and Heavy Construction Association 2022
Conference Safety
The B.C. Road Builders and Heavy Construction Association ("BCRB&HCA") is complying with Provincial Health Guidelines in holding its events, there can be no guarantee that attendance will not result in contracting Covid-19 or suffering from any of the documented potentially serious illnesses.
By attending the conference, you hereby waive any and all claims that you have or may have in the future against the B.C. Road Builders and Heavy Construction Association ("BCRB&HCA") and release the BCRB&HCA from any and all liability for any loss, expense, cost, or illness that you may suffer or experience which are in any way resulting from or related to attending the BCRB&HCA Fall Conference.
Cancellation Policy
Cancellation and substitution requests must be made by emailing [email protected]. Cancellations made before August 19, 2022 will incur a $50.00 administrative fee. Cancellations made after August 19, 2022 are subject to a 25% Administrative fee.
Name badges must be worn at all events for entry. Delegates picking up their name badges are only permitted to get their own and their guests. For no shows, all items that are in the name badge become property of the Association.