Event Description
BCRB Annual Fall Conference!
We are excited to be heading to Kelowna for the annual BC Road Builders 2023 Fall Conference.   With over 500 attendees, this conference is the perfect opportunity to showcase your company to industry professionals, network with peers, and gain insight into the latest industry updates.
The BC Road Builders and Heavy Construction Association's Fall Conference is scheduled to take place in Kelowna from Sunday, September 17 to Tuesday, September 19, 2023.  Please plan to join us and take advantage of this great opportunity to participate in workshops, round-table discussions, social activities and so much more.
In addition, we would appreciate your support by providing any donation that could be used as prizes (no corporate logo products) during the very popular Reverse Draw at Monday evening's Fall Banquet Dinner.  Please remember we have a double ticket system, so donating two of the same prize would be greatly appreciated.
Please send your items to the Association's office prior to noon on Wednesday, September 6, 2023 or drop them off directly at the Fall Conference Registration Desk with a business card attached.
If you have any questions or require any assistance, please do not hesitate to contact our event management team at 604-952-5507 or [email protected].
Kelly Scott
BC Road Builders & Heavy Construction Association
Schedule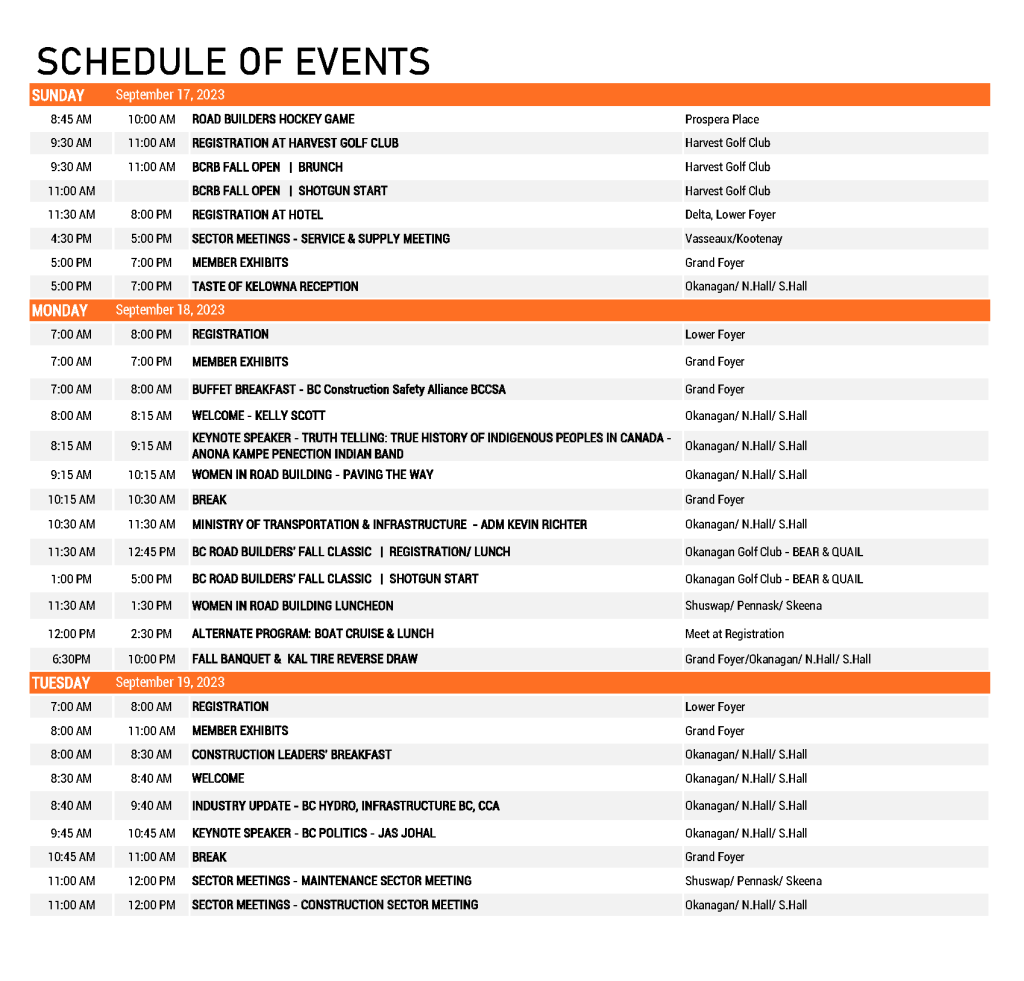 *More session details to come!
Events
Sunday, September 17
 BCRB Fall Open   |  
Harvest Golf Club
Delegates, Members & Guests are Welcome!
Brunch:                       9:30AM
Shotgun Start:            11:00AM
Price: $200.00 per player
$50.00 per MoTI player
(includes green fees, brunch, cart, practice balls)
Road Builders' Reception   |   
5:00PM – 7:00PM
You are invited to an evening of networking and a celebration of Kelowna's culinary excellence.
Monday, September 18
BC Road Builders' Fall Classic Golf Tournament   |  
The Okanagan Golf Club
BC Road Builders will be showing off their golf skills at our annual Fall Classic Golf Tournament.  Come join in with a foursome for a great day on the Bear or Quail Courses.
Registration & Lunch: 11:30AM
Shotgun Start:            1:00PM
Price: $215.00 per player
(includes green fees, lunch, cart, transportation to course)
 Boat Tour & Lunch   |  
Alternate Program
Experience the best that the Okanagan has to offer.  Enjoying Kelowna from the water is a definite must-do experience while visiting the Okanagan.  Depart from the marina just a few minutes walk from the Delta Hotel.
Price: $165.00
12:00PM – 2:30PM
Meet the Women in Road Building Committee and Panelists   |  
Alternate Program
An opportunity to network with the Women in Road Building Committee members and panelists over lunch. This lunch time program will include an opportunity for questions and discussions in small groups conveniently located on-site at the hotel.
12:00PM – 2:30PM
Fall Banquet Reception & Dinner   |  
Reception 6:00 & Dinner 7:00PM – 11:00PM
Join us Monday evening for delicious food and enjoyable company at the Annual Fall Banquet Dinner!
See if you're the lucky one by participating in the exciting Reverse Draw during the Fall Banquet Dinner and you could be the winner of $5,000.00 cash!
Sponsorship

This conference is made possible by the continued support of our members.  We thank the many companies who have and continue to sponsor our association events.
If you are interested in sponsorship or would like to hear more about the opportunities available, please download the sponsorship package and reach out to our sponsorship team to discuss how best we can meet your goals and customize opportunities.
Please contact our team at 604-952-5507 or [email protected] for more information.
Thank you for your continued support.
Thank you to 2023 Sponsors!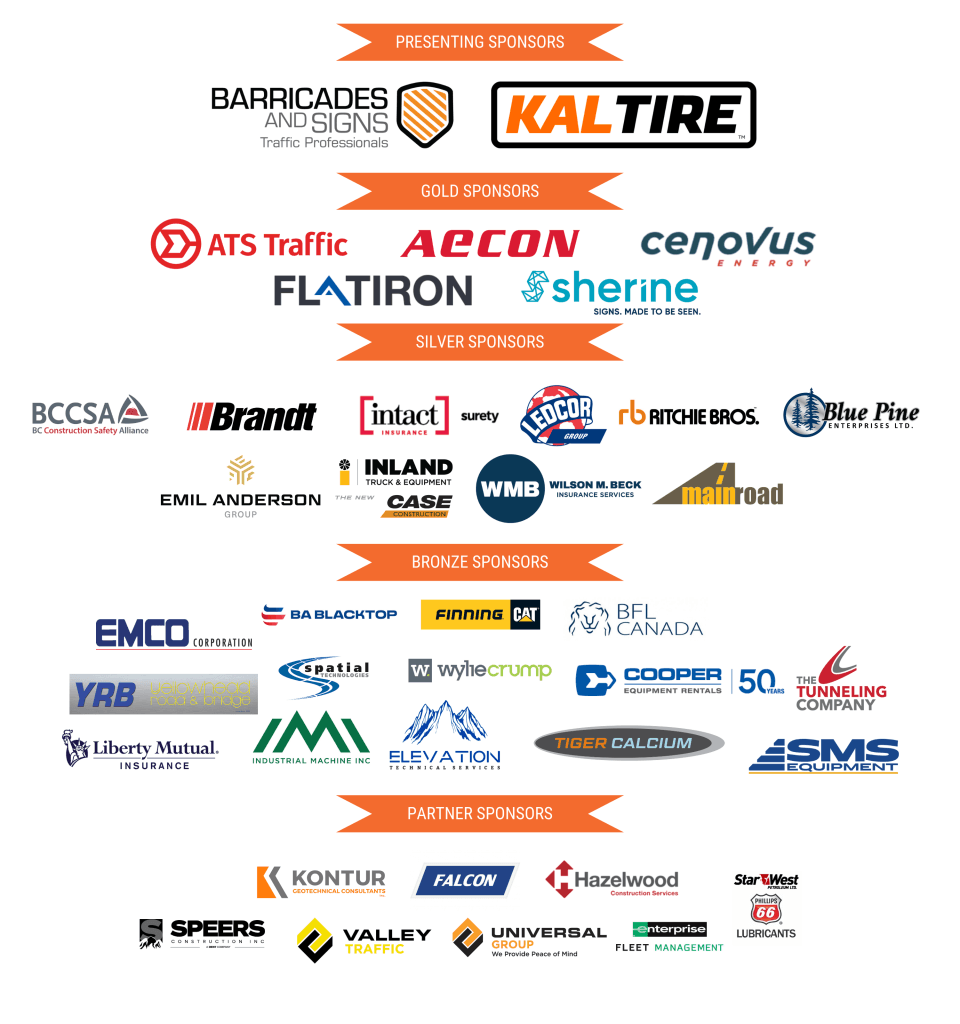 Member Exhibit Floorplan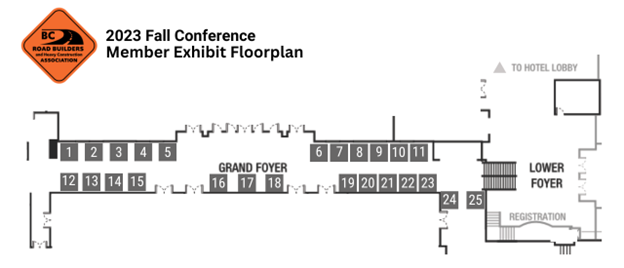 Hotel / Venue
Immerse yourself in a lakeside ambiance in the midst of British Columbia's Wine Country at Delta Hotels by Marriott Grand Okanagan Resort. Set on Okanagan Lake and surrounded by picturesque mountains, this urban resort offers stylish hotel rooms and suites with deluxe amenities. The Grand is located in the heart of Kelowna within walking distance to shopping, dining and entertainment.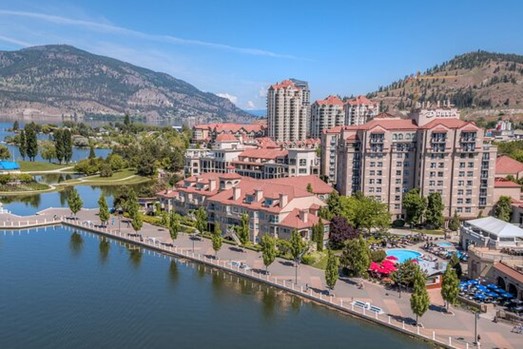 Register Now!
Registration Deadline
Early bird deadline is July 31st, 2023. Any registrations, changes or cancellations received after the deadline of September 8, 2023 will be charged a 25% administration fee. No refunds will be issued after the deadline without sufficient cause in writing. Please remember to advise any food allergies/dietary restrictions in writing to [email protected].
For any registration changes, please call the BC Road Builders & Heavy Construction Association office at 604-436-0220 or email [email protected].
This event is for members of the BC Road Builders & Heavy Construction Association. If you are not a member, and interested in joining, please click here to learn more. Non-member registrations will be cancelled.